Does your rental kitchen inspire you to eat out rather than dine in? Just because you're renting doesn't mean you can't have the kitchen of your dreams! Your dream kitchen needn't cost thousands of dollars or require a team of tradesman. With these simple, affordable and ingenious tips, you can transform a lacklustre kitchen into a gastronomic inspiration!
1. Accessorise Your Rental Kitchen
That's right, accessories aren't just for you to wear when you're going out on the town. Simply adding some bright accessories can dress up the most boring rental kitchen. Try decorating your kitchen shelves and benchtops with colourful appliances, ceramics, condiment jars and vases. Accessories are a simple and affordable way to brighten up your rental kitchen.
2. Add A Rug
So often our floors are overlooked and while the floor of your rental kitchen may be old and unsightly, it can easily be prettied-up. The addition of a rug is a simple and cost-effective way to freshen up your kitchen floor and detract from the embarrassing and unsightly lino hidden beneath. Try choosing a rug that is hard wearing like jute or seagrass or a woven rug that can be easily cleaned. Or if you're not afraid of a little extra vacuuming, why not add a bright oriental carpeted rug for a splash of colour and a touch of the exotic.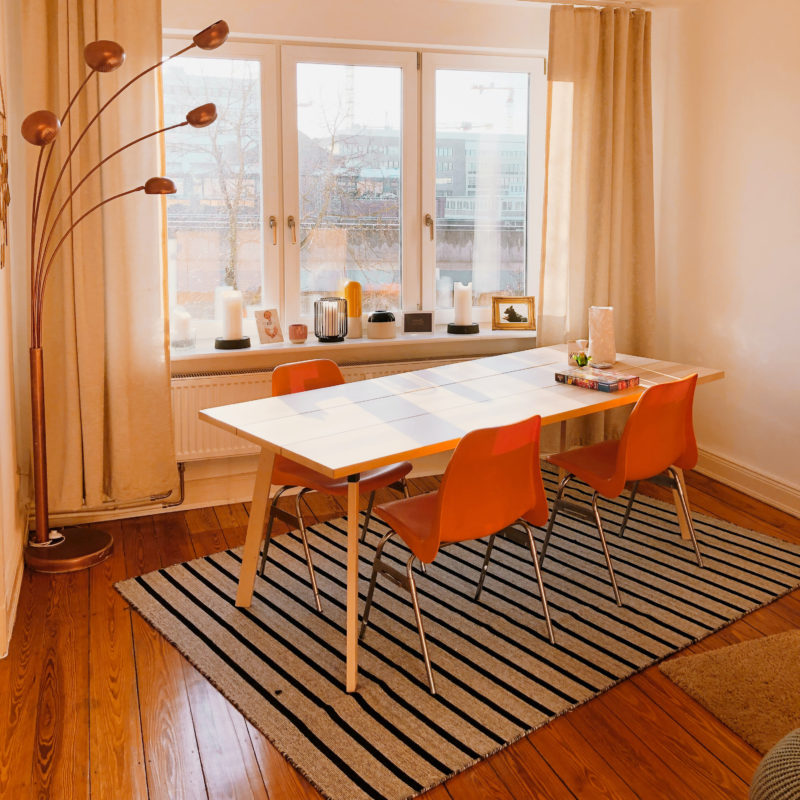 3. Update Your Cupboard Door Knobs
Living in a rental house means you're limited to the changes you can make, however there is a quick and easy solution to make an old kitchen look new again. Update your kitchen cupboard handles! Just replacing your old and tired cupboard door handles can make a huge difference to the look and style of your rental kitchen. Also popular is replacing tired handles with leather strips to create a unique look in your kitchen. There are so many varieties from vintage floral ceramic knobs, brass knobs, brushed chrome knobs or modern designer knobs. Whatever style you choose, there are many cost-effective knobs that will give your rental kitchen a much-needed facelift.
4. Remove Your Doors
Now, this may be a little controversial and removing lower cupboard doors is NOT a great idea if you have small children, but open shelving is so in fashion right now. If your rental kitchen has unsightly cupboard doors, try removing a few of them to add some character. Open shelves are also a fantastic way to display some of your colourful ceramic cookware and create a homely feel to even the starkest of rental kitchens. Just be sure to reattach the doors when it's time to move on.
5. Cover Your Rental Kitchen Benches
Now unfortunately, many rental houses have kitchens fresh out of the 1970s! However, there are ways to spruce up your retro kitchen and bring it into the 21st century. An ugly laminate kitchen bench can be transformed with self-adhesive contact paper. Yes, you heard correctly! Contact paper has come a long way from the good old days of covering schoolbooks. Contact paper can be used to transform any flat surface quickly and economically and is perfect for kitchen benches, shelves and furniture. It also comes in a range of colours and patterns so no one need know that underneath your modern 'marble' benchtop lies the laminate of a very kitsch 1970s kitchen.
6. Create Your Own Splashback
Do you ever find yourself ogling kitchen catalogues with fabulous kitchens with bright and shiny splashbacks? Just because you're in a rental house doesn't mean you have to miss out. Adding a splashback to your rental kitchen not only modernises your kitchen, but it becomes a feature in your home. However, it's unlikely you would be allowed to tile your rental kitchen. But there is a solution! There are self-adhesive wall tiles that are suitable for use for kitchens and bathroom splashbacks. These tiles are made from moulded plastic, come in a range of amazing patterns and look three dimensional. So, they look like the real deal! They're also resistant to humidity and heat and are a cost-effective way to update your rental kitchen. Best of all, if the landlord doesn't love the modern addition to the kitchen, these tiles are easy to remove with a little heat from your hairdryer.
7. Brighten Your Walls
Is your rental kitchen drab, dull and boring? Why not brighten your world with some removable wallpaper? Wallpaper is no longer a terrifying process of glue, mess and painstaking removal with a steamer. Today, wallpaper is affordable, simple and removable. If you're trapped within the four dull walls of your rental kitchen, fear no more! With so many varieties of wallpaper you can soon brighten up your kitchen with bold colours, floral patterns or geometric designs. And, if your landlord doesn't love the new look kitchen, simply peel it off before it's time to move on.
8. Brighten Your Drawers
While you're brightening the walls, don't overlook the interior of your cupboards. One of the simplest, cheapest and most practical ways to give your kitchen cupboards a fresh look is paper! Try lining the insides of your rental kitchen's dated drawers with some fresh and funky contact paper. This simple trick will make them look brand new again and of course, contact paper will also protect the drawers and help keep your cutlery and utensils clean.
9. Add Nature To Your Rental Kitchen
There's no better way to give life to a lifeless room than adding some plants. Potted plants are a cheap and easy solution to fix a stark room and the more plants the better. Try adding a pretty row of flowerpots on your kitchen window or better still, a little herb garden. You'll never run out of fresh herbs again and they'll beautify your kitchen window. Try adding a hanging plant in the corners of your kitchen. The Burro's Tail is a funky succulent that will add colour and character to your kitchen and the Arrowhead Vine is also one of the best low maintenance house plants and thrives in kitchens and bathrooms.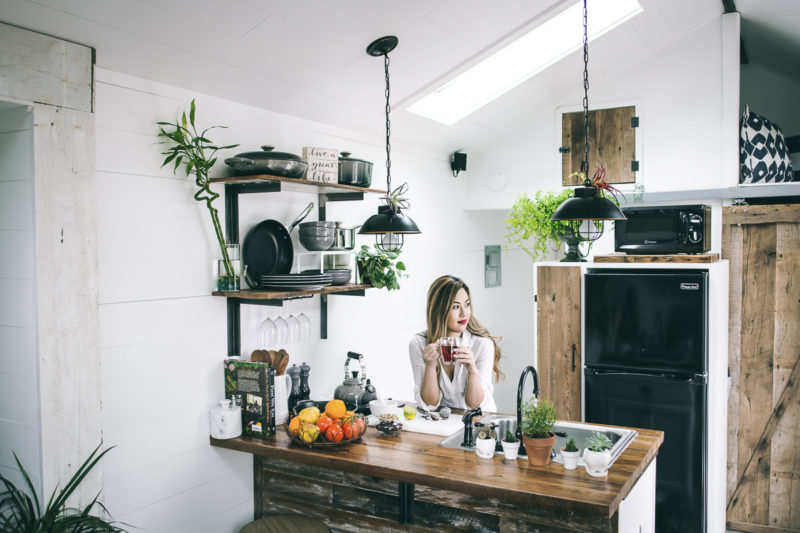 10. Organise Your Rental Kitchen
A cluttered bench can make a drab rental kitchen worse so get organised! There are many affordable ways to rid your kitchen of unsightly clutter. To maximise space in your rental kitchen try hanging pots and pans by fixing a cheap metal curtain rod to the wall and adding some S hooks.
If you have the room, add some temporary shelving on top of your bench tops and display your nice china or invest is glass jars to store your cooking ingredients. Displaying your prettiest glassware helps make your kitchen look homely and inviting.

11. Decorate Your Rental Kitchen With Fruit
Not all fruit belongs in the fridge! Scour the homewares store for some funky and colourful bowls to use as fruit bowls. Place your bowl in the centre of your bench or kitchen table and add some colourful fruit like lemons, limes and apples. This simple addition can brighten the mood of any kitchen.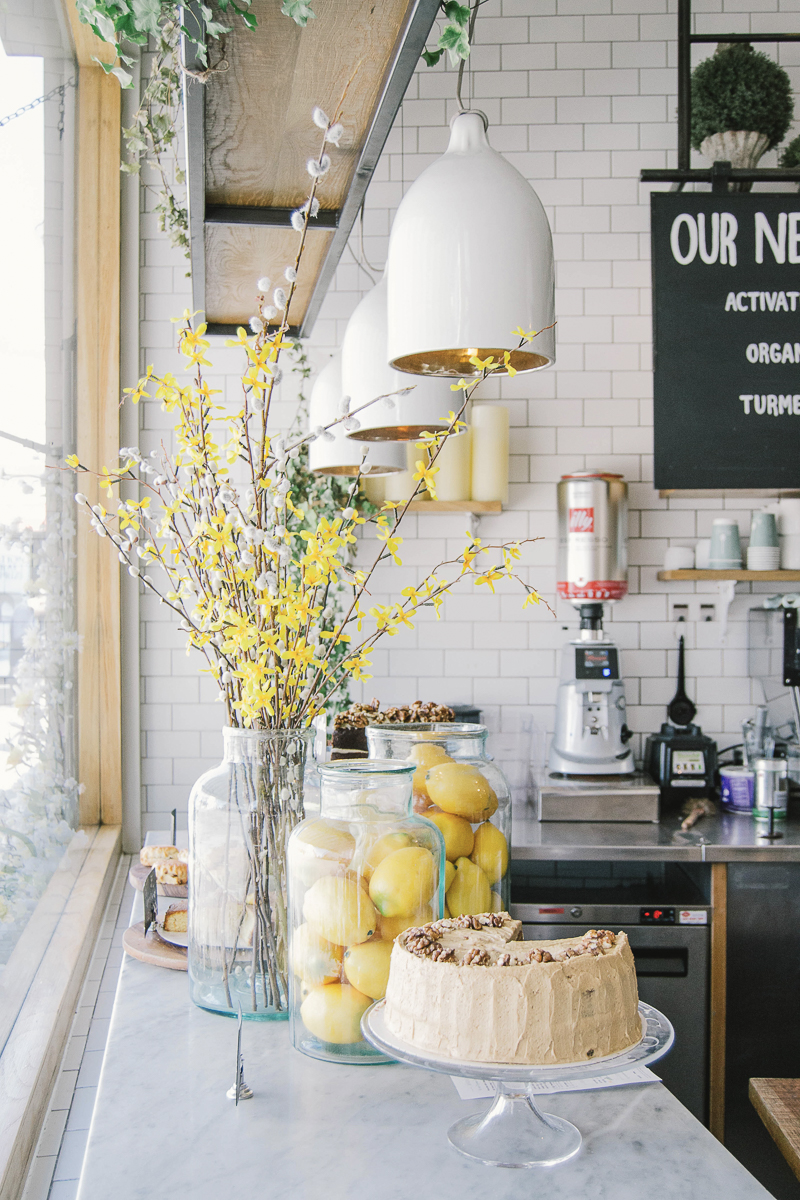 12. Update your Linen
Just because it belongs in the kitchen, doesn't mean it should be boring! Spruce up your rental kitchen with bold and colourful linen. Consider using a tablecloth to make a dull space vibrant and try colour co-ordinating your tea towels and handtowels. Just these few small and inexpensive touches can make your rental kitchen a bright and cheery space.
13. Dress Up Your Fridge
The household refrigerator needs some loving too. Don't succumb to the urge to plaster your fridge with magnets, shopping lists and bills! This is guaranteed to make any kitchen look untidy. Instead, clear your fridge of any unnecessary items. If your fridge is looking a bit old and tired, consider covering your fridge with contact. You could transform an eyesore into a quirky conversation piece at your next dinner party.
14. Brighten Your Lights
Now, many rental houses have cheap and unattractive lighting fixtures but there's no reason you can't update the lighting in your rental kitchen. There are so many affordable and attractive DIY light shades that you can install to immediately change the ambience of your kitchen. Consider your décor and choose a light that will accentuate your style. If you're hanging plants in your rental kitchen, consider a bamboo or rattan lampshade to complement the earthy style. If you're adding in metal shelving or switching out old cupboard knobs with modern black metal, consider finishing off this theme with a geometric black wire shade. Choosing the perfect light shade is the finishing touch to your rental kitchen makeover.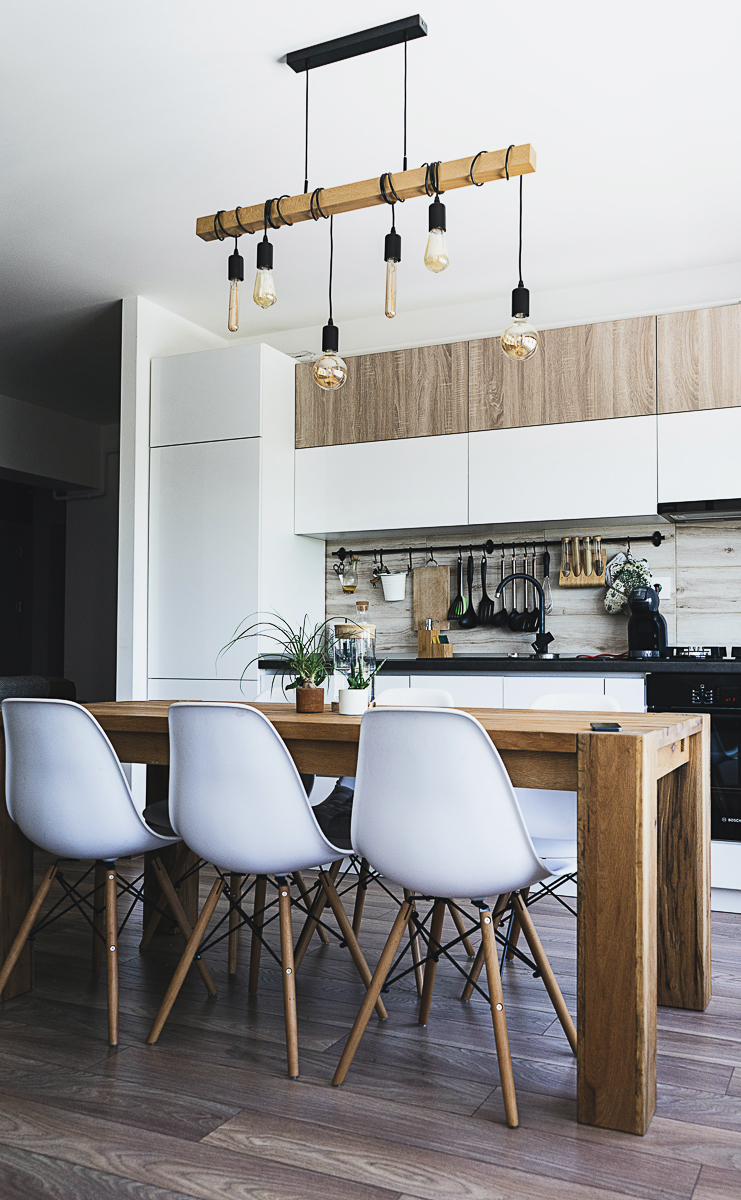 15. Brighten Your View
Do not forget about your windows! Many rental houses have cheap blinds or boring curtains, but luckily these are an easy, affordable and quick fix. Decorating your rental kitchen windows with bright or bold coloured curtains is one of the simplest ways to transform your rental kitchen. Consider choosing curtains that match the colour of your accessories to streamline your décor. When it's time to move to a new house, simply pack-up your fabulous kitchen curtains and take them with you to decorate the kitchen in your next rental house.
16. Hang Some Art
Just because it's a kitchen, doesn't mean artwork shouldn't hang on the wall. Try scouring the cheap shops for pretty canvases that match your new colour scheme or large prints of inspirational quotes to decorate your kitchen walls. What better way to start your day than in a bright cheerful kitchen, the aroma of freshly brewed coffee and an uplifting quote hanging on your wall. It's the perfect start to any day.
17. Add A Chalkboard To Your Rental Kitchen
While it's not recommended you paint walls in your rental house without approval from your landlord, you can add a temporary feature to your kitchen with a chalkboard. Adding a chalkboard to your rental kitchen is a fun and functional addition to your kitchen. Simply buy a piece of plywood suitable for your kitchen space and paint with chalkboard paint. It really is a simple as that! A chalkboard is ideal for keeping track of schedules, shopping items or for keeping little people occupied while you're cooking dinner.
18. Hang A Pegboard In your Rental Kitchen
Hanging a pegboard in your kitchen is a great way to show off your personality. Use the board to hang your favourite recipes, photos, shopping lists, inspirational notes and all those items you removed from your fridge. Best of all, a peg board requires very few hooks to hang so there won't be many holes to patch when you move on.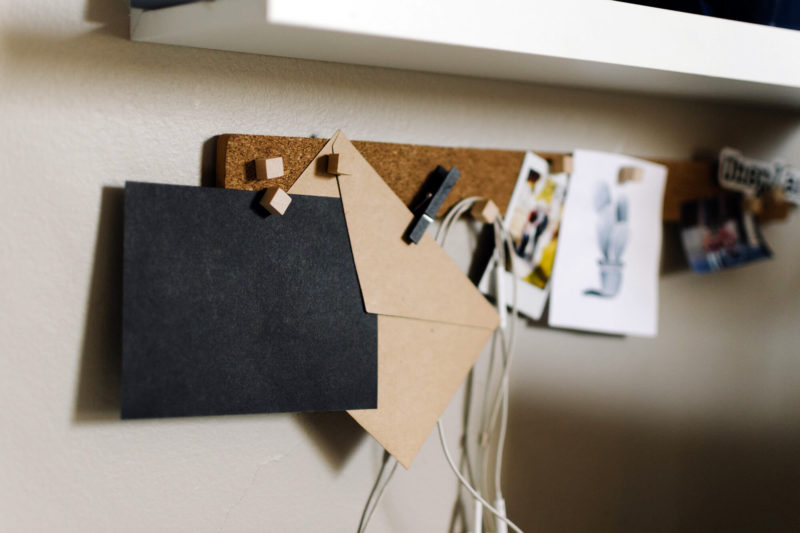 19. Spruce Up Your Furniture
Now it's unlikely that your furniture will perfectly match the décor of your rental kitchen but there's an easy fix! If you're a keen painter, don't be scared to sand back your timber dining table and show it some love with some fresh new paint. Old chairs can be recovered or repainted or even just the addition of some matching pillows can change the entire look of your kitchen.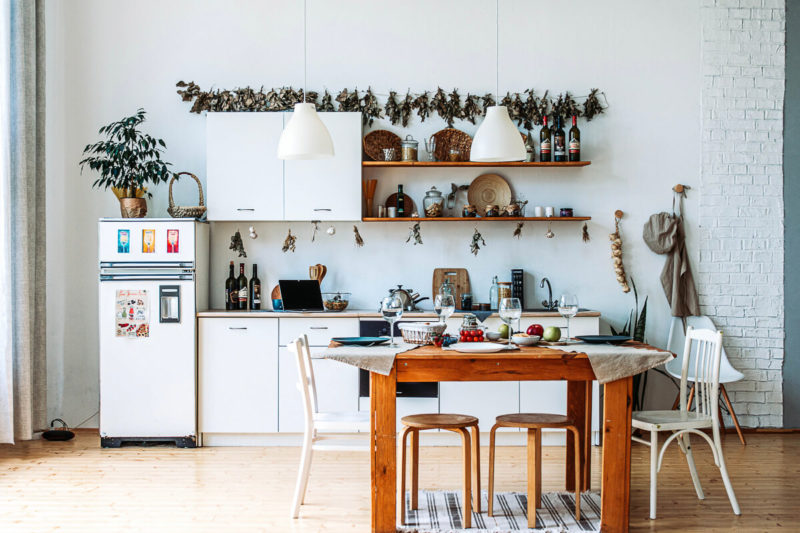 Rental Kitchen Transformations
These simple, quick and affordable tips will help you transform any boring rental kitchen into your dream kitchen. If you found this article helpful, then perhaps you will find this article on 23 Easy House Decor Ideas Perfect For Rental Properties particularly useful.